news
06-09-2005
Gerry Enters UK Caterham Championship
Gerry Taylor has entered the next round of the UK Caterham R400 championship, his first races are on the 23rd, 24th and 25th of September 2005 at brands hatch.
He will be racing on the classic grand prix circuit supporting his team mate / customer Will Mitcham of Bury St. Edmunds who is currently leading the 12 race series.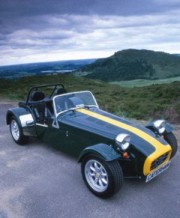 other news
Gerry Taylor of Taylor's Foundry has been hard at work help local charity, The Centre for Computing History.
Taylormade Castings have recently bought Gregory's of Cannock - a company specialising in the production of Street Furniture and Outdoor Furniture.
Gerry Taylor of Haverhill based Taylor's Foundry has offered to replace for free the stolen brass plaque marking the grave of a soldier who was killed in Afghanistan.