news
23-05-2009
Taylors Acquire Gregorys of Cannock
Taylormade Castings have recently bought Gregory's of Cannock - a company specialising in the production of Street Furniture and Outdoor Furniture.
The acquisition brings together the very heart of outdoor furniture products and services incorporating a wide and varied range of street furniture to suit your requirements. Made from the highest quality steel, cast iron and hardwood, each item is individually hand crafted and finished to the highest standard.
Website : Gregorys of Cannock - Street Furniture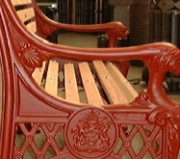 other news
Gerry Taylor of Taylor's Foundry has been hard at work help local charity, The Centre for Computing History.
Gerry Taylor has entered the next round of the UK Caterham R400 championship, his first races are on the 23rd, 24th and 25th of September 2005 at brands hatch.
Gerry Taylor of Haverhill based Taylor's Foundry has offered to replace for free the stolen brass plaque marking the grave of a soldier who was killed in Afghanistan.